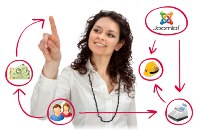 CBSubs 2.0.2 is now powering Joomlapolis according to our Quality process and is available for download by all CBSubs customers.
This is a maintenance release for the CBSubs 2.0 features series and is a recommended upgrade for all CBSubs installations.
Additionally, all Developer members can now access the CBSubs API documentation and the GPL v2 payment gateways and integration plugins from the Devloper Download area. This way new GPL payment gateways and integrations can be developed for CBSubs.
{mos_sb_discuss:6}