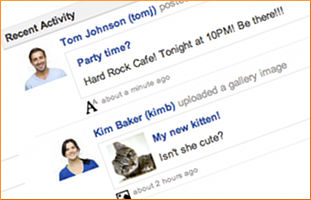 The CB Team has just released the brand new CB Activity plugin for Professional and Developer members.
Promote and encourage your membership participation with realtime activity streaming on your website.
This add-on will bring new life to your website by showcasing your membership activities in a prominent and stylish fashion.
Activity events that can be configured are:
new member announcements (registration event)
sign-in alerts (login event)
sign-offs (logout event)
new friendships (connection events)
profile changes (profile update events)
image changes (profile image updates)
guestbook entries (profilebook guestbook tab)
blog tab entries (profilebook blog tab)
wall tab entries (profilebook wall tab)
gallery entries (profilegallery tab items)
blog entries (CB Blog publications)
group activities (all GroupJive events)
forum posts (Kunena forum integration)
Users will be able to see their latest activities and the activities of their connections on their user profile Activity tab. When viewing another user's Activity tab they will be able to see the activities of that user and of his/her connections.
The entire activity of your community (respecting members' privacy settings) is also available in a component-type view using a Joomla menu item type.
The CB Activity plugin is also available from the Packager Installer and it will be further enhanced and integrated in Community Builder 2.0.
{mos_sb_discuss:6}