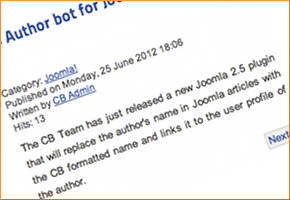 Joomla 2.5.6 with the CB Team proposed patch can now support Joomla article author name linking back to CB user profile of author.
CB Author bot is a Joomla 2.5.6+ compatible content plugin that when installed (as a Joomla extension) and enabled (from Joomla extension plugin manager) will replace the Joomla article author name display to the CB formatted name style and link this back to the CB user profile of the author.
This Joomla content plugin is freely available to all Joomlapolitans from the Free Download area.