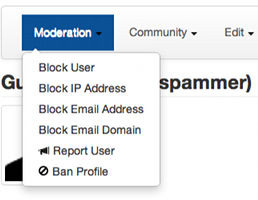 Protect your Community Builder websites against spammers with the new CB Antispam plugin.
The new CB Antispam plugin is by far the most complete and versatile services independent protection mechanism available for Joomla websites.
Just install and publish it as a CB plugin and you can configure it to:
Human challenge your CB forms (registration, login, forgotten password, email messaging) with Captcha image with audio playback and refresh button (also supports recaptcha and question mode)
Automated duration configurable (e.g., 1 hour, 1 week, etc.) blocking of IP after failing registration or login (X failed attempts in Y duration)
Automated duplicate registration blocking based on existing registrations from single IP (e.g., useful to block multiple free promotional trials)
Stop or limit account sharing (e.g., single login session per account at any given time)
Frontend blocking of spammer (account, IP, email, email domain) account for moderators visiting spammer CB profile
These are extremely powerful features that will help you manage multiple forms of spamming.