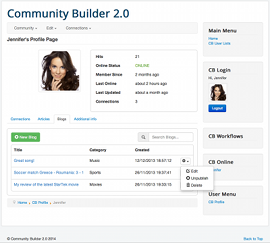 Community Builder 2.0 - the next generation - is getting closer with the release of CB 2.0 beta 2 !
Hundreds of awesome new features are being tested and fine-tuned by our Developer member community as the CB Team is pushing forward in full speed to implement even more innovative community building ideas.
The XML MVC AhaWow engine technology included in the new CBLib Library along with a powerful new imaging library provides the technical foundation for greatness.
CB 2.0 development effort will continue to improve and build upon this great new architecture but the benefits are already visible (click pictures to enlarge):







Our developer forge is on fire with hundreds of new features and many more planned for the next beta release.
Here is a - not so short - list of already implemented features:
new look and feel everywhere with new styles and a clean and crisp user experience
CB 2.0 core now includes the most popular (up to now) commercial add-ons
6 new core field-types: file, video, rating, points (substantially improved compared to existing add-ons), and brand new audio and date/time
image field type now supports moderation and approval via CB Workflow module
new built-in avatar gallery with full view and thumbnail view support
3 new core plugins: CB Articles, CB Blogs and CB Forums (re-written for new look and feel and performance improvements)
CB Bootstrap template (previously commercial and also improved) is now included in core and is default for new installations
all CB templates are now bootstrapped (default, winclassic, webfx, osx, dark, luna)
HTML email support now added to all workflow email messages
new administration module provides backend admin menu, CB news feed and CB plugin update feed
enhancements to CB field manager with ability to copy fields and change field types
CB fields can now be configured to turn-off profile editing (backend only editing)
all CB fields now support profile value and userlist value flexible output configuration in addition to the traditional label: value layout
tabbed and flat views can be applied to profile editing and registration forms
optional public emailing to profile user
new flexible layout types for user lists: grid and div
user lists manager has been enhanced to allow copying of user lists
improved SEO with new framework functions to add active menu item metadata to HTML header output and respect/use Joomla metadata on all CB landing pages
new single Joomla package automatically installs everything for you and even publishes / pre-configures modules during first-time installation
As you can see we have been working to address community feedback between CB 2.0 b1 and CB 2.0 b2 and in parallel to providing an innovative new framework and library layer that will help us moving forward.
There are many more exciting improvements planned for next beta release, so stay tuned.
Developer members can download CB 2.0 beta 2 and start testing immediately (not for live site).