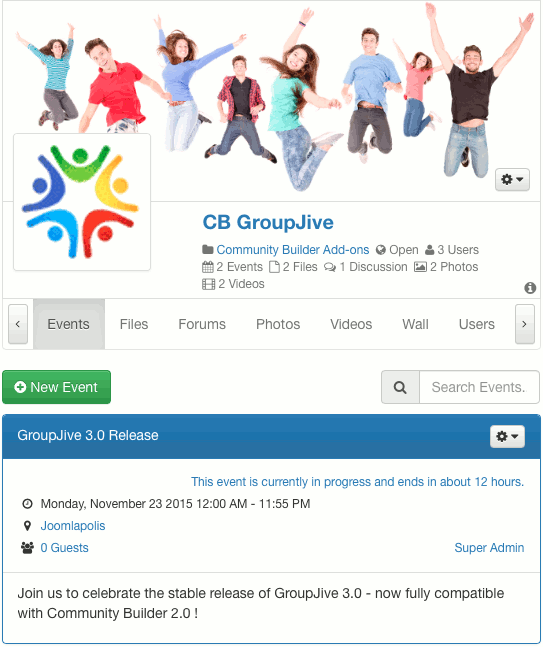 GroupJive 3.0 can be downloaded by all paid members.
GroupJive 3.0 is ready to empower your community members to create their own mini-communities with media sharing, group events and private discussions. And it looks great on all viewing devices (smart phones, tablets and desktops) with Community Builder 2.0.12+ (required).
GroupJive 3.0 has been totally rewritten for a completely fresh new intuitive user experience.
The main features of GroupJive 3.0 are:
Fully CB 2.0 compatible and fully responsive (smart phones, tablets, desktops)
New canvas layout
Simplified single level hierarchy of groups with group categories
Joomla ACL support for Groups and Categories
Groups can be of Open, Approval or Invite type
Catgeories can restrict Group types
Photo, video and file sharing
Invitations to increase group membership
Group Events with Google maps integration
Wall and private forum (Kunena) discussions
Notifications and communications with email and private messaging (uddeIM)
Joomla search support for group content
Showcase groups and categories with GroupJive module
Full integration with CB Activity and CB Auto Action for powerful workflow and activity streams
Localization support using CB Language plugins
With this release we have reached a major milestone as we now have all our Professional add-ons, our CBSubs GPL Paid Subscriptions Solution and our Joomla Templates fully CB 2.0 compatible !