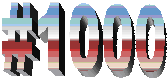 Earlier today Joomlapolis has welcomed its' 1000 citizen! This is approximately only two weeks after the official grand opening of our new online environment. Wow!
The Joomlapolis government has located this Joomlapolitan. His username is spark9, his name is Jeff and you can view his profile here. Jeff, has gratiously accepted our proposal to share with us some additional information about himself and his Joomlapolitan needs.
Q1. How did you find out about Joomlapolis?

In looking over Joomla to see if it would fit my needs I realized I'd need a way to collect more than just the basic information from users. Reading through the forums I saw that Community Builder seemed to be the preferred component, and with the release of RC2 I followed the community over to its new home.

Q2. Please tell us a little about yourself and your Joomla/Mambo experience.

I'm a long time professional web developer, with my primary expertise in ASP and moderate experience with PHP and ASP.NET. Most of my work is with custom server-side applications.

Several recent clients had needs that I thought could be met with pre-existing solutions rather than custom-built ones, and Joomla turned out to fit those needs well. I'm pretty new to Joomla but I've already gotten dirty modifying existing components to fit my needs and as I get to know Joomla better I expect to find more uses for it in my work.

Q3. Please tell us about your CB experience and the needs you are satisfying with it.

Without the features that CB brings to Joomla I probably wouldn't be using Joomla at all. I think the combination of Joomla and CB really expands the potential of Joomla in so many way.

For one client, we're using CB to collect contact information from the client's customers. The customers can then get auto-generated legal forms created with just a click from within Joomla, prefilled with their info from CB.

Another client, a martial arts school, collects contact info for all their students. They then have access to an always up to date member roster. We're also using their addresses to create a dynamic car-pooling map using Google's Maps API.

I'm especially looking forward to the upcoming integration of vBulletin with Joomla and Community Builder for setting up feature rich community sites.

Q4. I know its too soon, but what do you think about Joomlapolis so far?

I think the keys to the success of an open source project are the resources and community supporting it. Joomapolis looks to offer an excellent home and future for Community Builder.

Q5. Anything you would like to say to your fellow Joomlapolitans?

Hello of course ;-) I look forward to getting to know those in the community as I explore all the possibilities CB has to offer.
Thank you Jeff and welcome to Joomlapolis!
---