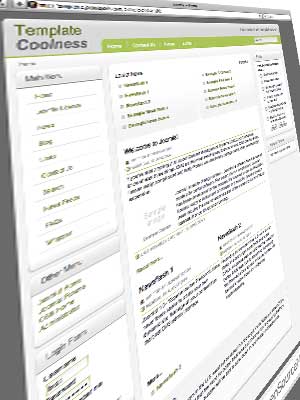 Following the release of our first Joomla - CB Template combo, MyCommunity, the CB Team is proud to announce the release of its' second template combination named Coolness. This is yet another light, lean, tableless design that once again demonstrates that bigger is not always better.
The CB Team is not known for its template design skills. We are however very particular and picky when it comes to quality and efficient coding. These characteristics were imposed and enforced when we collaborated with Jacob Hodara during the MyCommunity project and now on the Coolness project. The development process for both templates was very challenging. Many iterations and many coding suggestions exchanged between the two teams. We didn't know it at the time (since we are not in the template business), but it looks like with this process we have created the 2 most efficient templates in Joomla land!
Based on this nice article and cool competition amongst two template development teams, we went ahead and tested both our templates, MyCommunity 1.1 and Coolness 1.0 and came up with the following figures:
| Category | MyCommunity 1.1 | Coolness 1.0 | Most commercial templates |
| --- | --- | --- | --- |
| Number of http requests | 2 requests | 7 requests | 30-100 requests |
| Requests from cache | 1 request | 6 requests | 20-90 requests |
| Load times (miliseconds) | 173 ms(*) | 274 ms(*) | 650 ms to 5000 ms |
| Page size (KiloBytes) | 10.88 kB | 47.53 kB | 57 to 250 kB |
(*) These load times were measured on a real server (not localhost) using Firefox 3.5 and Safari 4.0 – unfortunately using the same method we could not verify the times given in the comparison article (our measurement method seem to produce larger figures – slower loading than reported in article)
If our mesurements are correct (and of course we are open to challenges), we have created the 2 most efficient Joomla templates.
The Coolness template validates XHTML 1.0 trans and CSS 2.1, is tableless for better accessibility, and has been successfully tested on a broad range of browsers. The template has been designed especially for clean Community Builder rendering, as well as for popular extensions, like uddeIM and Kunena.
Before you rush to grab your copy, let's take a closer look at what is actually offered.
The package contains a Joomla 1.0 template, a Joomla 1.5 template, a CB1.2 Template Plugin, the new CB Content module, detailed documentation (25 pages) for Joomla 1.0 and (25 pages) for Joomla 1.5 environments and the license file.
The Joomla template runs also without CB, but if you use CB and wish to use the included CB template plugin, then CB 1.2.1 is required.
The Joomla templates are installed just like any other template on your website. The template has 12 module positions and can use any color for backgrounds and for highlighted text (e.g., links) with the use of only 2 parameters, allowing billions of color combinations.
We have fully configured 2 template demo sites so you can see the Joomla template package in action. We have setup a Coolness template on a Joomla 1.0.15 website (click to see)and Coolness on a Joomla 1.5.14 website (click to see).
The CB 1.2.1 Template Plugin is installed as a CB Plugin from the CB Plugin Management panel and once published, it will add another option to your'Community Builder Template' parameter in your CB Configuration User Profile tab panel. This new 'coolness' option will change the look of your CB Profile page. We have also setup a sample Coolness CB 1.2.1 Joomla 1.5.14 profile page (click to see). The new environment can take advantage of the new CB Content module, used to present available CB Profile actions as nicely formatted links in a Joomla module. You can check this out by logging on in our template demo site (previous link) using the demo/coolness username/password combination. On the CB demo site we have installed, in addition to CB 1.2, GroupJive, uddeIM 1.6 and Kunena. This way you can see how our Coolness environment works with these extensions also.
We have included extended documentation regarding the installation of Coolness and have also included instructions to make changes to the templates to satisfy your specific esthetics and needs. Additionally you can contact the template designer, Jacob Hodara and request professional services for further modifications.
Coolness is offered commercially at 20 € for installation on 1 live site (and development/test sites) and at 29 € for unlimited installs on any sites owned by purchaser and can be purchased and downloaded by selecting the Coolness template checkbox in the Subscription tab of your profile (login first - click here to buy: Select Coolness Template then click buy).
{mos_sb_discuss:7}