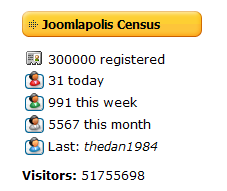 As the 300K celebration festivities are in progress, we have identified the Joomlapolitan that sparked this celebration. Let's welcome Dan our 300,000th member also known by his username thedan1984.
The CB Team has decided to throw some nice presents Dan's way. Dan will be receiving:
I am sure we would all like to learn more about Dan and his Joomla / Community Builder goals, so here we go!
Nick: Hi Dan and welcome to Joomlapolis! Can you please give us some information about yourself?
Dan: My name is Dan, I am a 25 year old freelance Web Developer living in Albany, New York. I graduated Purchase College in 2008 with a BA in New Media. I've been developing websites since 1998, but on a more serious level since 2004. As of now, most my projects come from a local web marketing company which sells websites to local businesses and then sources the work to myself and a few other developers.
Nick: How did you hear about Joomla and Community Builder?
Dan: I learned about Joomla in 2008 when I begun researching how to create a mass content (100s of pages) website. I didn't want to have to rely on just HTML, PHP, and MySQL to create it because I had a few people involved with the project who lacked the ability to code. A Content Management System was the only way to bridge the gap of knowledge, I weighed out the options between Joomla and Wordpress, in the end Joomla was picked (for silly reasons, I found a template I liked.) In the Summer of 2009 we wanted to add some community features to our website. We came across Community Builder on Joomla's Extensions Directory, but we passed it by because we felt we were not ready to have an active community that would require us to moderate forums, comments, and spam (adding user input can be great, but it also requires a lot of attention or you'll end up with 14590 posts about buying virtual gold or some cosmetic products).
Nick: What are you trying to accomplish with Joomla / Community Builder?
Dan: We're trying to add in a "universal" community system to our gaming website which allows for users to communicate with us and with each other, in hopes to generate more meaningful content on our website. Our members will hopefully feel proud to share their knowledge and accomplishments with each other. We currently have "mismatched" community features which don't relate with each other all that great, I'm hoping to wipe them all out and stick Community Builder in their place.
Nick: Finally, what can you say about our 300K sized community?
Dan: A community with over 300,000 members is one heck of a community, I hope my website reaches 1,000 members. I can't imagine the time and dedication that the Community Builder team must put in to maintain such website, bravo to you!
Well thank you Dan!
Welcome to our community!
Congratulations and enjoy your gifts!
{mos_sb_discuss:6}