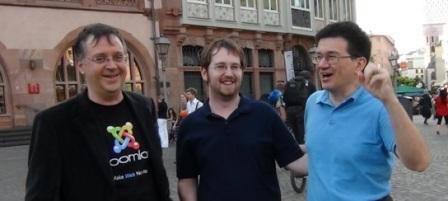 New: See our presentations and video from event!
Just back from the JandBeyond 2011 international Joomla conference held in Kerkrade Netherlands (very close to German borders) where the CB Team attended and gave two back-to-back presentations. CB was also a gold sponsor for this wonderful gathering of Joomla professionals.
Beat and I (Nick aka nant) had also attended last year's event, so our expectations were pretty high this time around. Well, once again, we had an awesome time! We met many Joomla professionals and Joomla team members and finally associated real faces to our skype chat sessions.
We also flew in Kyle (aka krileon) from the U.S.A. on his first ever inter-continental trip and Joomla event combination. Our two CB related presentations were met with great enthusiasm by the audience and they have been videotaped for everyone to enjoy. We will tweet the link once videos have been processed, but in the meantime you can browse through the slides used in these presentations: A Look @ Community Builder 2.0 and Community Builder Solutions and Development.
During the awesome social event at the end of day 1, the CB Team was interviewed by two wonderful ladies, Dianne and Alice, from the Joomstew radio team. This was one of the many great moments we had at the event and all three of us really enjoyed "communicating" with our CB community this way. Stay tuned to Joomstew for interview to air – we will also tweet about it when its released.
Finally, having attended many Joomla related events, I would like to give this one a five-star rating and highly recommend it for every serious Joomla advocate.
{mos_sb_discuss:6}