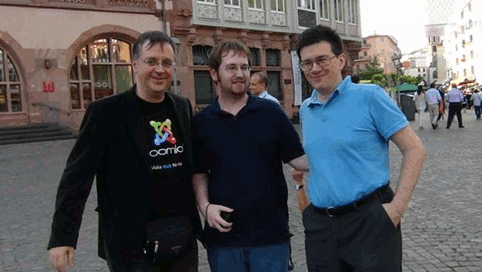 Joomlapolis is proud to support this year's J and Beyond 2012 event as a Video Sponsor. This way the Joomla magic will be recorded and shared with millions of world-wide Joomla lovers that cannot make it to Bad Nauheim, Germany this May (18th - 20th).
Watching post event videos are good, but there is nothing like physically attending and meeting in person and face-to-face. The most interseting and hottest happenings usually occur between sessions over a cup of coffee or afterwards with a beer at hand. Unfortunately (or maybe fortunately - lol) these side events are not videotaped.
If you must pick a single Joomla event to attend, then JandBeyond is the one! It is by far the most prestigious Joomla gathering ever. Joomlapolis has been sponsoring this conference since its inception because we believe it's simply the best Joomla event. This is the place to meet Joomla leadership, third party developers and well known Joomla fanatics and discuss Joomla and only Joomla.
If you have not purchased your tickets yet and have the opportunity to attend, then you should purchase your ticket now (before April 1st) to save 50 EUR off regular ticket price.
Beat and Nick (aka nant) will be attending this year and would love to meet all Community Builders attendees and have our own CB Users Group gathering (reply to discussion thread below if you are attending).
Even if you cannot attend this years conference, you can participate by casting your nominations for this years J.O.S.C.A.R.s. Remeber to nominate Community Builder for the Free Joomla Add-ons award category.
If you cannot attend then standby for the video recordings Joomlapolis is sponsoring so you can at least view the great presentations. If you are attending let us know so we can organize a nice gahering to discuss Community Builder topics.
{mos_sb_discuss:6}