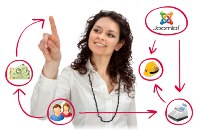 We are extremely excited and proud to announce and release CBSubs GPL 3.0 paid subscription membership management solution !
This is great news for everyone !
CBSubs GPL can be installed on an unlimited number of websites and can handle an unlimited number of users.
CBSubs GPL 3.0 also has many new features (see discussion thread for changelog) and it now has support for PayPal Pro and Google Checkout, PHP 5.4 and of course for Joomla 3.0.
We have spent a little over three years of live deployment and fine tuning of the CBSubs framework that is currently powering thousands of paid membership sites and our very own Joomlapolis website.
This way we have verified that CBSubs is a highly reliable, secure and robust paid subscriptions membership management solution. And now we are ready to offer this as a GPL licensed open-source product.
As of today we have implemented a long ago strategic decision to fully embrace the now proven open-source business model. Thus, we are no longer selling the CBSubs 2.0 proprietary licensed product and all existing CBSubs customers are highly recommended to migrate to the new GPL license.
We have put together a fair migration path for existing customers to migrate to the new CBSubs GPL product with unlimited users and unlimited sites and of course no longer needed ioncube loader (this migration promotion ends on Feb. 1st 2013):
All existing or new Developer members get CBSubs GPL 3.0 as part of their subscription
All existing CBSubs customer with lifetime maintenance can activate a free upgrade to a CBSubs GPL membership subscription
All existing CBSubs customers with an active (as of today, Dec. 29th, 2012) maintenance period get a 75% discount to upgrade to CBSubs GPL 3.0
All existing CBSubs customers with expired maintenance still get 50% off to upgrade to CBSubs GPL 3.0.
You can now get the new CBSubs GPL 3.0 release together with 12 months of maintenance and of course great forum support from the team experts by either purchasing a new CBSubs GPL membership subsciption or by becoming a Developer member.
{mos_sb_discuss:6}