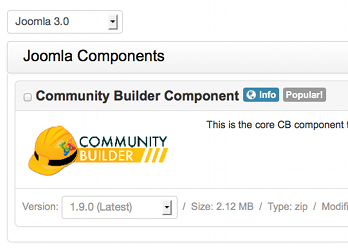 Save time downloading and installing your CB solutions by using the new CB Packager page!
Just choose the add-ons you need and create a single click installable Joomla (3.0, 2.5 or 1.5) package ready for installation or upgrade.
The CB Packager page, previously available only for paid members, is now also available for Free members.
The process is easy and simple:
Go to the CB Packager page
Select the Joomla version you want to create a package for
Select the Community Builder component to reveal other add-ons
Select one or more add-ons
Click the Download button at bottom
Install package using the Joomla extension installer
The packager page will automatically detect your membership privileges and will let you select which add-ons you want to package together to create your personal single installable download package for the Joomla version you want.
When the packager detects an add-on that is not included in your current membership, you will be given the option to upgrade or purchase the membership or package needed in order to access it.
The CB Packager remembers the packages you create and lets you name each package and give it a description. In the future you will be able to download the same package but with the latest updated individual elements.
Another nice feature of the new CB Packager is the support of package presets. The CB Quickstart Pro package is now configured as a preset package and can be downloaded from the packager page.
This way it will automatically pick up latest CB Quickstart PRO elements, so there is no need to wait for new CB Quickstart PRO releases when (for example) a new CB Activity plugin version is released.