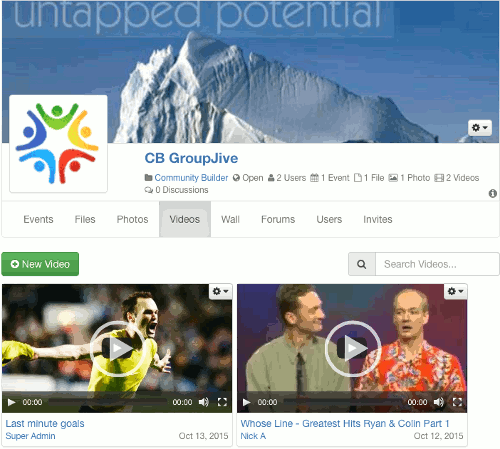 GroupJive 3.0 beta 1 can be downloaded by all paid members.
GroupJive 3.0 beta 1 is fully compatible with Community Builder 2.0.11+ and is ready for test sites.
GroupJive 3.0 is a complete rewrite using CB 2.0+ framework and libraries and has been restyled to match the CB 2.0 profile canvas layout.
Main features and changes list
GroupJive 3.0 has many new featres and changes compared to the previous 2.7 release:
Rewritten for CB 2.0 compatibility
New responsive (yes, mobile ready) canvas layout design
Adds Community Builder plugin joomla menu item support for all integrations
Language files for each GroupJive integration plugin that will be included in CB Language plugins (no more need for separate GroupJive language plugin)
Intergration plugins now push their own menu items to the CB Admin Navigation module
Updated forum integration for Kunena 4.0+
Updated support for CB Antispam
Nested categories and nested groups features have been dropped.
New component buttons for administration accessible from plugin management page
You can see full changelog on our forge.
Please note that this beta release does not have a migration script (planned for Release Candidate), so it should not be installed over previous GroupJive environments.
GroupJive 3.0 beta 1 installation recommendations
GroupJive 3.0 beta 1 is not a stable release and:
should only be installed on CB 2.0.11+ sites that do not have previously installed versions of GroupJive
can be installed on live sites but you might encounter errors (that will be fixed of course in next beta/RC builds)
is recommended for testing pruposes
After you install you should make configuration changes to your CB Admin Dropdown Menu module (administrative):
Set Menu -> CB GroupJive Menu to Hide and Menu -> Plugin Menus to Show
Testing feedback and Roadmap Comments
All paid members can download GroupJive 3.0.0 beta 1 and start testing by installing and publishing all its elements (main plugin, integration plugins, Joomla module and Joomla search plugin) on your Community Builder 2.0.11 environment. It is recommended to upgrade first to latest CB Nightly Release.
So here is a list of steps to help you quickly get started:
Upgrade to latest CB 2.0.11 Nightly release
Download the CB GroupJive 3.0 beta one distribution
Unzip distribution package to reveal individual CB plugins, Joomla module and Joomla plugin
Install the CB Plugins using the CB Plugin Manager and then publish them
Optionally Install Joomla module and Joomla search plugin and publish
Create a new Joomla menu (give it a name like GroupJive) of menu type Community Builder -> Plugin
Select CB GroupJive from Plugin dropdown and save
Then Select All Categories in the Action parameter
Save menu
Create as many categories as you want from the CB GroupJive -> Categories button
You can also create groups from the CB GroupJive -> Groups button
Access GroupJive from your website frontend by clicking on the Joomla menu you created in step 6
You can explore options and settings to quickly get the hang of things and study all available tooltips. We are working on a GroupJive Primer Book that should be available when release candidate status is reached,
Please post any problems or feedback on the discussion thread below so we can quickly address and fix. Depending on feedback and issues identified we will be issuing either a new beta release or we will be going directly to a Release Candidate process.