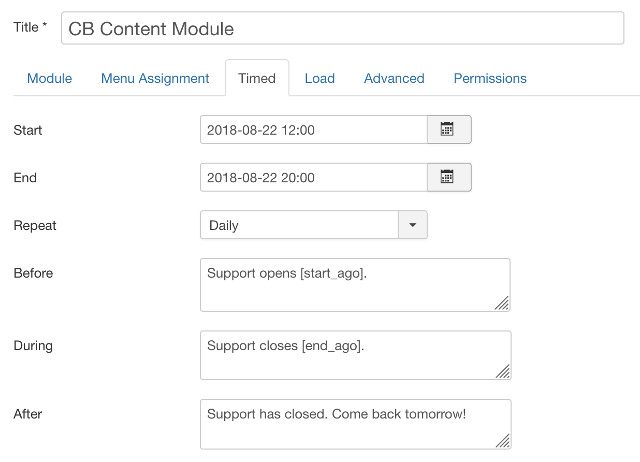 CB Content Module 3.0 is available for download by paid members
CB Content module 3.0 has been released with a great new  timed content feature. Kyle has already blogged about this and in a nutshell this new feature lets you set a start and end date/time period and then specify what content is to appear before, during and after the specified period. CB substitutions can also be used for extra fine-tuning of your content.
The specific use case shown in the screenshot above has been implemented on our demo site.
If you have never explored the CB Content module, you should really take a closer look at it. It's basically a Joomla HTML module on stereoids!
In addition to just displaying HTML powered content in a module position, the CB Content module also does the following:
Adds CSS code and URL specified CSS files to your page header
Adds Javascript code and URL specified Javascript files to your page header
Adds jQuery code and loads jQuery plugins to your page header
In addition to the use case shown on our demo site, here is a cool tutorial that illustrates the power of the CB Content module!