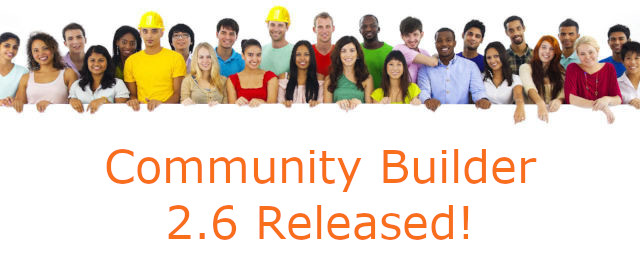 Community Builder 2.6 can be freely downloaded by all registered members
We just released Community Builder 2.6 with 18 new features and 20 bug fixes!
The main new features (full CB 2.6 changelog) include:
Modernized design and user interaction
New default registration forms
Improved user profiles with new menus
improved users lists
New modern abstract default galleries of avatars and canvas
Default avatars with initials (configurable with parameter setting)
New modern UX on mobile browsers
Improved installer splash screen
Advanced warning for obsolete (and soon incompatible) PHP, MySQL and Joomla versions
Community Builder 2.6 is a recommended upgrade for all CB sites.
Our demo website has already been updated to Community Builder 2.6, so you can see it in action along will all our Joomlapolis add-ons.
As always, you should first test on a cloned environment before upgrading your production site.
Kyle's latest blog has more details and lots of screenshots!
Looking ahead to Community Builder 2.7 and 3.0!
We have already started modernizing our code-base for CB 3.0 as you will see in next CB 2.7 release. This modernization effort will use new features that PHP 7.0-7.4 supports. This means that the obsolete PHP 5.6 to 7.3 versions will no longer be supported starting with the next CB 2.7 stable release. The CB 2.7 upgrade/install process will be checking the PHP version as a prerequisite for completion. Similar checking will apply to over 5 years old MySQL versions prior to MySQL 5.7.8 (bringing highly useful JSON columns support) and to Joomla versions prior to Joomla 3.9.0. To avoid any surprises, we have added PHP, MySQL and Joomla obsolete version warnings to CB 2.6.