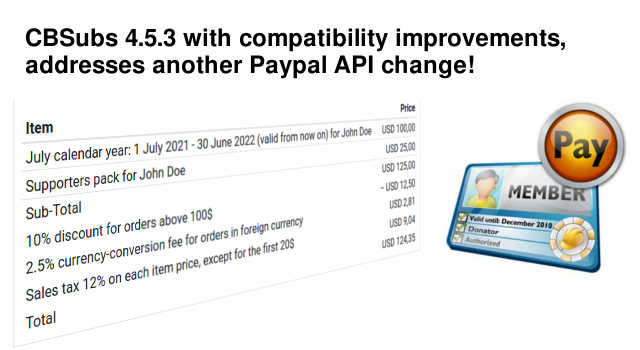 CB Paid Subscriptions (CBSubs) 4.5.3 comes with an important compatibility fix for another unexpected Paypal.com API change that happened a few days ago!
In this picture, you can see an example of an order with a staged discount, a markup and time-based sales tax.

CB Paid Subscriptions (CBSubs GPL) 4.5.3 is a compatibility and maintenance release, with some minor but noteworthy improvements. CBSubs 4.5.3 improves massively filters for searching and filtering payments in the payments management in the administration area. It also improves the flexibility of texts in payment method selections, by adding possible conditionality on the auto-recurring status of the basket and of the selected payment method when using radio-type selection.
Finally, CBSubs 4.5.3 is a compatibility release, bringing full compatibility with Joomla 4 and 3.x, with other extensions using same libraries as CBSubs but in different versions, improves API usage with Paypal, Stripe and latest AcyMailing.
CBSubs 4.5.3 also addresses a major API bug of Paypal.com affecting completion of some payments if any payment-related description text is non-ASCII (which can happen when using username substitution in the item description text).
CBSubs 4.5.3 is a highly recommended upgrade for all sites, especially for sites using Paypal (standard), Stripe and/or AcyMailing.
CBSubs 4.5.3 is fully compatible with Joomla 4.0, PHP 8.0 and MySQL 8.0, in addition of Joomla 3.x, PHP 7.x/5.6 and MySQL 5.5-8.0.
CBSubs 4.5.3 is available in our Downloads section and simply requires an active subscription to CBSubs. It is a highly recommended upgrade and requires and works great with latest CB 2.6.4 and Joomla 3.x-4.0.
Please note that the next features release of CBSubs, which will be 4.6, and will require PHP 7.4, like already announced since quite some time for CB 2.7.
Full changelog with the over 10 improvements and 20 bugfixes is available, and CBSubs 4.5.3 is also installed on our demo site.