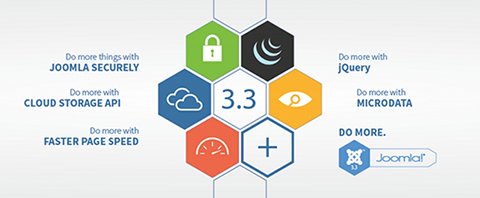 Joomla 3.3.1 and Joomla 2.5.22 have been released.
Joomla 3.3.1 is a maintenance release for the feature rich Joomla 3.3 release. If you are currently running a Joomla! release on a server with PHP 5.3.10 or later, we encourage you to update immediately to Joomla! 3.3.1 by either the one-click update or by one of the available update packages.
According to the Joomla roadmap, the next series release will be Joomla 3.4 scheduled to happen on July 15th. This is great news for the Joomla community as Joomla 3.4 will mark a beginning of smooth upgrades with extra attention to maintain backwards compatibility for at least 3 years! Read our Executive Summary report on the new Joomla release strategy to understand this important and exciting concept.
Joomla 2.5.22 is a maintenance release for the 2.5 series. Upgrade packages to Joomla 2.5.22 are available for Joomla 2.5 series installations.
As usual backup before upgrading your Joomla websites and verify that all third party extensions (including your template) are compatible.
The CB Team is proud to continue assisting the Joomla project by continuously testing and reporting back any compatibility issues between new Joomla releases and Community Builder. Beat is also active in the Joomla! Security Strike Team and helps keep Joomla secure.
And yes, CB 1.9.1 works great on both new Joomla releases !