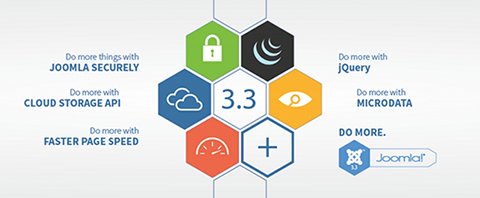 Joomla 3.3.3 and Joomla 2.5.24 have been released.
Joomla 3.3.3 is a maintenance release for the Joomla 3 series. If you are currently running a Joomla! 3.x release on a server with PHP 5.3.10 or later, we encourage you to update to Joomla! 3.3.3 by either the one-click update or by one of the available update packages.
If you are still running Joomla 3.x websites on PHP versions older than PHP 5.3.10 (which by the way is 2+ years old), you should update to at least PHP 5.3.10 and Joomla 3.3.3. If you cannot update to a PHP 5.3.10 (or better) enviornment now, then make sure that your Joomla 3 series sites are running Joomla 3.2.4. As Joomla 3.2.x is security maintained until October 2014, you should plan to upgrade your PHP environment within the next 3 nonths.
Joomla 2.5.24 is a maintenance release for the 2.5 series. Upgrade packages to Joomla 2.5.24 are available for Joomla 2.5 series installations. Joomla 3.3.3 is considered as a mature release and Joomla 2.5.x end of life is planned at end of 2014, it is time to start planning your upgrade.
As usual backup before upgrading your Joomla websites and verify that all third party extensions (including your template) are compatible.
And yes, CB 1.9.1 and CB 2.0 beta 5 both work great on these new Joomla releases !