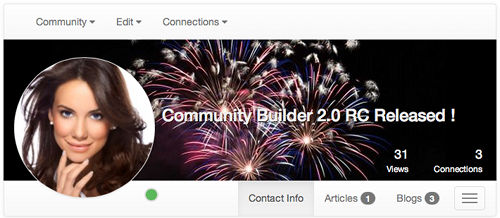 As announced, the next generation Community Builder 2.0 RC is here and available for download by all paid up supporters from the Advanced Download area.
CB 2.0 RC has an awesome new look, new styles for profile images, new user list grid layout, new canvas fields, new gallery images, 22 built-in field types, powerful batch processing and advanced searching administrative tools. Everything is now nicely wrapped into a single installable Joomla package that provides extensive flexibility for you to support your specific community / members website.
CB 2.0 RC has over 135 new features, 80+ bug fixes, newly designed and responsive page layouts, new graphics library, new jquery library, fontawesome and icon support, new configuration parameters and the powerful XML MVC AhaWow engine technology under its hood.
Is CB 2.0 RC right for you?
The following statements will help you decide if CB 2.0 RC is right for you.
CB 2.0 RC:
is a major features release primarily meant for testing purposes and early adaptors
is compatible with Joomla 2.5.24 / Joomla 3.3.3 or better
is not a stable release and this is not recommended for live production sites
is not compatible with Joomla 1.5 or Joomla 1.0
is not fully compatible with CB 1.9.1 plugins
CB 2.0 has been addressing backwards compatibility with CB 1.9.1 released plugins, but we have identified some CB 2.0 plugin compatibility issues that will need new plugin releases to resolve.
Our recommendation is that you can use CB 2.0 RC:
on your new (under development) websites
to test and evaluate its functionality
on your clonned Joomla 2.5.24 / Joomla 3.3.3 CB 1.9.1 websites (see CB 2.0 plugin compatibility issues) to test and evaluate
Next Steps
The roadmap towards a CB 2.0 stable release is:
Gather testing coverage and problem reports from memberhip community (please test and post feedback on this article discussion thread - see link at end of article)
Address all identified issues and post weekly progress reports
Release new RC builds if needed and back to step 1
Release CB 2.0 stable when number of unresolved major RC reported issues is zero
In parallel we are working on our new online documentation areas for CB 2.0, but in the meantime all CB parameters have their own embedded tooltip assistant messages and we are always available to help on the forums.