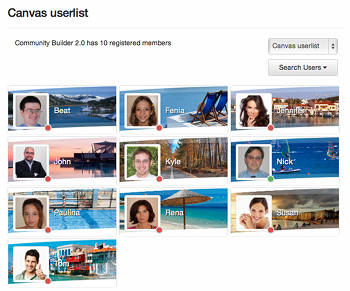 After our JAB14 return and our CB 2.0 new look article, we have pushing forward developing even more visual improvements and addressing community feedback on our CB 2.0 beta releases.
In the visual improvements area we have been restyling CB user lists to give them a new modern crisp look and to take advantage of the new Canvas functionality and the new Grid layout feature.
Our community has been expressing its concern that existing CB 1.9.1 compatible plugins may be broken by the next generation CB 2.0 series. Our initial thought was that the mangitute of new features and changes present in CB 2.0 would make it very difficult to maintain backwards compatibility and any existing plugins will have to be updated to conform.
Now that we have completed our core changes, we have been taking a closer look and decided to invest in providing an internal legacy layer to support existing CB 1.9.1 plugins. The ultimate goal is to allow CB 1.9.1 sites to upgrade to CB 2.0 and keep all existing CB plugins functional.
The benefit of this investment is huge for the existing CB 1.9.1 userbase and also for third-party CB plugin developers that will now have more time to convert their existing CB related add-ons to conform with the new CB 2.0 code.
We have also been implementing many localization improvements that will help improve performance and language specific string pluralizations and we have implemented multiple keys for language strings. This means that if the same string is used in two different areas it can be translated differently. We are now looking into implementing a translator friendly language override facility.
Because of these important code improvements we are now scheduling a beta 5 release in order to get feedback on legacy layer and CB plugin compatibility and then we will follow-up by addressing all reported issues and moving towards an RC release.
We are very excited with the progress and the huge potential and would like to THANK all our members for their support, feedback and patience.