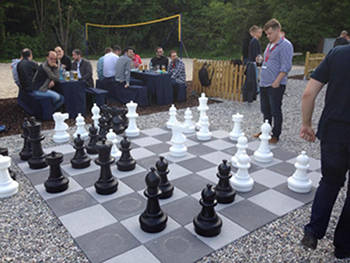 Another fantastic JandBeyond conference has ended and all attendees are now back to their home bases and daily routines.
This year's event was tagged as the "Investing in our future" conference and it was filled with awesome presentations about Joomla and about technologies used in other opensource environments.
But #JAB14 went far beyond just presentations as it dedicated half a day to conduct working sessions called Make It Happen (MIH) that contributed to bug squashing (see great bug squashing with music video), marketing brainstorming, frontend design, JUG organzations, Translator support and Joomla Certification program.
We participated in the marketing session, where we wrote next @joomla tweets and also worked on best ways to help people with older Joomla installations to migrate to newer ones. Beat also contributed by architecting and implementing a new software pattern for Joomla.
The JAB organization committee added a new social twist to this year's event by introducing the J-FACTOR talent show, where some community members dazzled us with their singing voices and musical instruments.
Beat and Nick delivered their presentations and have uploaded the relevant slides:
Once again, we would like to send a big THANK YOU to everyone involved for helping Joomla Invest in our Future, as well as to the team that made JAB14 happen.
We have uploaded our JAB14 photos to the JandBeyond official photos gallery.
Thanks to our video sponsoring, the JAB video team is currently working to get all the recorded sessions online for the whole world to enjoy!
The first videos are already available and we will be showcasing these great presentations in our upcoming reports.