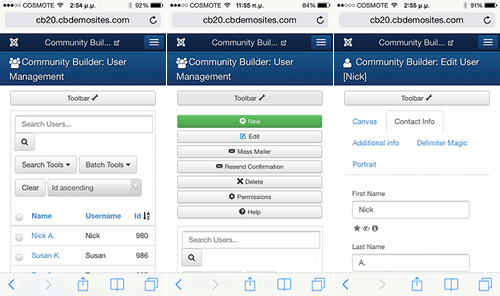 The Next Generation Community Builder 2.0 RC3 release is here and 2.0 stable is just around the corner !
All Community Builder 2.0 RC2 identified issues have been fixed and all planned features implemented!
We are now in deep feature freeze mode and we will only be addressing reported bugs. This way we will reach a Community Builder 2.0 stable release very soon.
Once again, this RC3 build is available for download by all paid supporters (Advanced, Professional and Developer members) from the Advanced download area.
Totally and completely mobile ready
One of the ongoing tasks of the Next Generation Community Builder is to make everything perform as best as possible on all viewing devices. We have been testing frontend and administrative pages on mobile phones and tablets and the results are impressive.
A mobile device is not recommended of course for heavy configuration tasks, but if needed - with CB 2.0 - you can do any administrative task using your hand-held smartphone. User management, workflow approvals, profile banning, user blocking and even CB Mass Mailer tasks are now completely mobile ready!
New RC3 features
This latest RC release has the following major new features implemented:
Easy access to administrative tasks with new dashboard page
Awesome mobile and tablet usability experience with improved responsiveness on all administration pages
Quick tab, field and list cloning with new Save as New and Save as Copy buttons
Easy mass changes to users are now a piece of cake with the new Batch tools on CB User Management page
Cool and clean looking Yes / No radio buttons with new styling for Yes/No toggles on administration pages
Quick access to administrative tasks with new submenus in Joomla navigation Community Builder menu
Non-intrusive Powered by footer that replaces the Community About CB menu
Roadmap to CB 2.0 stable
CB 2.0 RC3 is the last planned release candidate build. Our goal is to only address reported issues and release CB 2.0 stable.
During this testing period we will be working on preparing new CB plugin releases for our existing add-ons (CBSubs, CB Activity, CB Auto Actions, CB Connect, etc.) and releasing them when CB 2.0 stable is released.
So, our tentative plan is:
Release CB 2.0 RC3 to paid-up members (done).
Gather feeback from testing community and fix bugs and of course continue our own internal testing.
Work to get all our existing add-ons fully CB 2.0 compatible
Release CB 2.0 stable 1-4 weeks (depending on testing feedback and reported issues) after our RC3 release.
How can I help ?
CB 2.0 RC3 is available to all paid members for downloading and testing (not recommened for live website usage yet). We need a full spectrum of testing, including new website first time CB installations and upgrades from CB 1.9.1 sites. We have prepared some test case scenario outlines and posted them in our discussion thread below. The more testing feedback we get the quicker we release CB 2.0 stable.