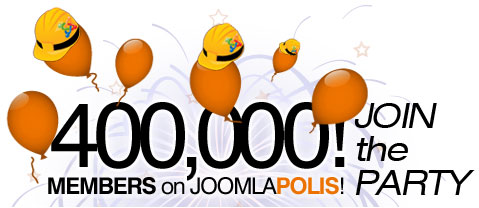 22 June 2011, Joomlapolis has just registered its 400,000th member!
Our fantastic community has been constantly growing and its times like this that we must sit back and take a closer look at what we have accomplished. And, of course, give thanks to everyone involved, no matter how small or large the contribution is perceived.
It's not only the membership count. We need to consider the huge popularity Community Builder has earned over the years. CB has consistently been one of the most popular Joomla extensions and we estimate between 1,000,000 and 2,000,000 CB installations with over 60,000,000 – 100,000,000 public profiles (base: Google search)! These numbers are truly awesome! And the fact that CB has remained stable and secure throughout its versions and all of the Mambo and Joomla versions is another great achievement in itself!
Who shall we give thanks to?
Well, for starters, we need to take our hats off to Joomla for its inspiration and good will pushing forward what is clearly the easiest open-source content management system around today.
The CB Team has been giving back to the Joomla project in many ways. As individuals contributing time towards tracker items, reporting, code fixes, magazine articles, etc. And as a project by sponsoring many Joomla related events over the years. And today, as another token of our sincere appreciation, Joomlapolis has donated $400 in honor of our 400K members to the Joomla project. THANK YOU JOOMLA!
We need to thank our community and this means YOU. You, the user, the forum poster, the Advanced member, the Professional member, the template purchaser, the CBSubs user, the tester, the language translator, the complainer, the reviewer (yes we read them, so please keep them coming!), the silent observer – each and every one of YOU has contributed to this huge success. THANK YOU!
And we need to thank our core team members (Beat, Nick and Kyle) for their patience and perseverance and most of all their understanding that beyond the fame and glory things need to stay fun and peaceful.
So, in true Joomlapolitan tradition, we are launching a week-long celebration with nice discounts and daily FREE gifts from Joomlapolis and from our third party friends! Take a peek at your personal profile coupon booklet and see our offerings and those of our friends. During the week-long celebration period, visit your coupon book every day as the Joomlapolis FREE GIFT will be changing each day! Many great products and services (extensions, CB plugins, templates, training, books, etc.) are being offered to YOU, our Joomlapolis member, at great discounts of up to 40%!
Update: The 400k celebration has been a huge success and has ended after 7 busy days on 29 June 2011. Once again: Thank You for your support!
Join the celebration discussion below - we will tweet and reward the best celebration slogans!
{mos_sb_discuss:6}