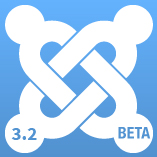 The awesome new Joomla 3.2 is scheduled to be released on November 6th, 2013!
The CB Team is taking a small break from CB 1.10 and CB 2.0 tasks to prepare a CB 1.9.1 package to support Joomla 3.2.
As the CB team is actively participating in Joomla, CB 1.9.1 will be released coordinated in time for Joomla 3.2.
All existing CB websites should upgrade to CB 1.9.1 before upgrading to Joomla 3.2 for full compatibility with the new Joomla 3.2 password storage feature.
New Joomla 3.2 installation can install CB 1.9.1 by downloading it from the Free download area or through the new Joomla 3.2 Install from Web (formerly known as app-store) directly from their Joomla 3.2 administration panel (once the new store functionality is enabled on their new Joomla 3.2 site).