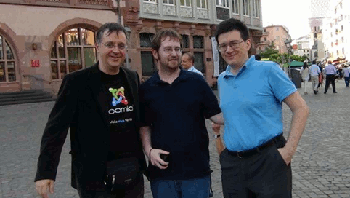 Its one-for-all and all-for-one !
Its been a hectic and diverse, yet productive period for the CB Team:
Beat has been contributing to the Joomla UX team and to the Joomla App-store project for the upcoming Joomla 3.2 release
Nick has been travelling and presenting at JoomlaDay UK 2013 and at CIVICON London
Kyle has been holding the support fort and getting CB 1.10 ready for beta, RC and public release phases. Plus, his support is being noticed and appreciated with awesome reviews on our JED listing!
Beat's contributions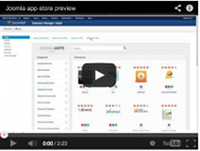 The awesome Joomla 3.2 release is getting closer and we are very excited to be part of this effort. Joomla 3.2 beta is almost ready and it will need your testing skills and help to reach stability.
Beat has been helping the JUX Team to improve the Joomla user experience and we expect to see some cool user interface related concepts in Joomla 3.2.
It looks like all of the awesome new Joomla 3.2 planned features will be included in Joomla 3.2 beta!
We are especially proud of the Joomla app-store (new naming currently in progress) that will allow you to search for and install new extensions directly from your Joomla administration panel!
Nick's travelling and lecturing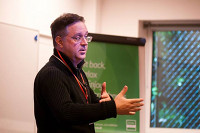 Two (2) events, four (4) presentations and lots of meetings sums up Nick's six (day) excursion to the UK.
Nick attended his first CiviCRM event at CIVICON LONDON last week where he presented Joomla and its CiviCRM integration status along with Brian Teeman and Paul Delbar. He also attended follow-up meetings with CiviCRM team members to see how integration between these two opensource projects can improve.
During his Joomla/CB CiviCRM Integration presentation, Nick announced and described the Joomla 2 CiviCRM synchronization plugin and the latest CB Auto Action plugin with its new CiviCRM action type support.
Nick also attended the JoomlaDay UK 2013 conference where he gave three (3) presentations:
Kyle's quest for excellence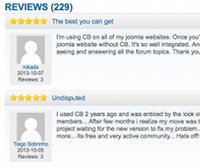 While Beat and Nick have been helping Joomla and spreading the knowledge, Kyle has been single-handedly supporting the forums and getting awesome reviews on the JED!
Kyle has also been making fantastic progress towards Community Builder 1.10 that is scheduled for beta/RC release later this month.