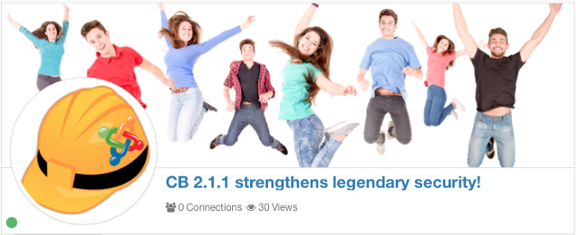 Community Builder can be freely downloaded by all registered members
We are proud to release Community Builder 2.1.1 with 8 new (minor) features and 21 bug fixes!
Just one month after our feature rich Community Builder 2.1 release, we are proud to release Community Builder 2.1.1 which is primarily a compatibility, maintenance and security-hardenings release. We are also celebrating our 1234th merge request since CB 2.0. !
The detailed list of new features and bug fixes is included in our discussion thread. The main features worth mentioning are:
Language override user interface improvements lets you search for language strings and easily create your own override strings.
Updated fontawesome library to 4.7.0 to give you even more icons that you can easily take advantage of on your websites.
Improved PHP 7.1 compatibility - this way you can take advantage of the latest PHP framework.

CB 2.1.1 further strengthens the legendary security of Community Builder. Third party libraries have been updated (Guzzle, PHPMailer) and additional security-checks have been added. Also the update channel, version checks and the newsfeed now all use https!
Please see our Security statement on Community Builder 2.1.1 regarding third-party libraries PHPMailer and Guzzle for super-technical details: In short, CB and our CB Add-ons are not vulnerable with default or any reasonably possible settings.
Of course Community Builder 2.1.1 is fully compatible with Joomla 3.6.5 and can be easily installed over any CB 2.0+ environment for a quick upgrade.
All Joomlapolis add-ons are CB 2.1.1 compatible and you can see them in action on our updated demo site.