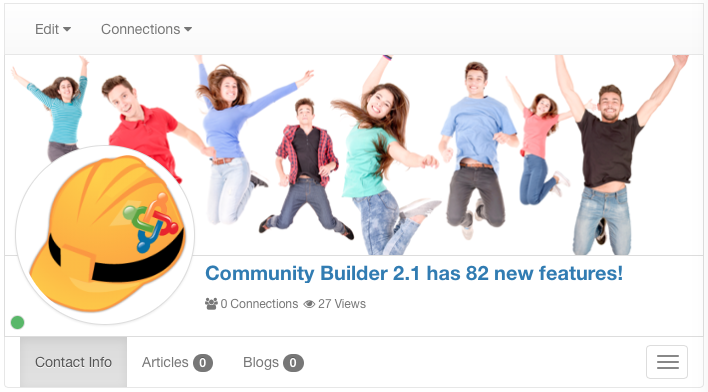 Community Builder can be freely downloaded by all registered members
We are proud to release Community Builder 2.1 with 82 new features and 44 bug fixes!
We have been pushing, and blogging about, these new features and bug fixes out to our 565920 strong and growing community in the form of nightly builds over the past months.
This way our new development is continuously tested by thousands of users and we can all be confident that CB 2.1 is a rock solid system ready for prime time.
With so many new features, this article could not possibly begin to give this release the coverage it deserves. You can read the full changelog in the discussion thread and we will blogging more about CB 2.1, but in the meantime we have compiled a Magnificent Seven list of some really great features in CB 2.1:
Of course Community Builder 2.1 if fully compatible with Joomla 3.6.5 and can be easily installed over any CB 2.0+ environment for a quick upgrade.
All Joomlapolis CB 2.0 compatible add-ons are also CB 2.1 compatible and you can see them in action on our updated demo site.
These are just 7 of the 82 new features that you can take advantage of on your existing or new community website.
See all 82 new features in our discussion thread and make your own Magnificient Seven list!