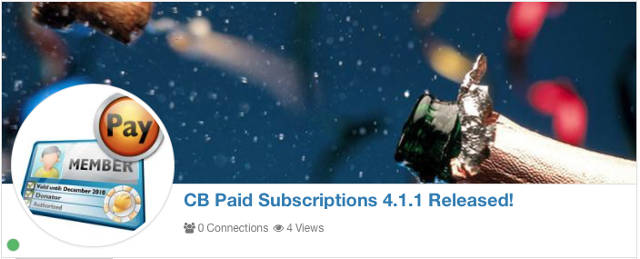 CB Paid Subscriptions (CBSubs) 4.1.1 is here with 12 new features and 27 bug fixes!
CB Paid Subscriptions (CBSubs GPL) 4.1.1 is mainly a maintenance release, but there are 12 new features that have been included.
As per Beat's blog, this release has been in the working and has gradually reached our user base through our continuous integration policy (aka nightly releases).
All new features and bug fixes are listed in the changelog that is included in the forum thread discussing this article (just scroll to end of article to see changelog and forum discussion start).
Of the 12 new features, we would like to focus on the following three key additions:
New mailer trigger added for changed payment basket.
This new features lets you automatically follow-up with email messages sent to your customers when something changes in the sales and payment process.
2Checkout gateway improvements to take advantage of the new 2Checkout recurring sales API allowing for promotions to be applied also on auto-recurring orders.
Generic Invoices Page can now be linked directly to Joomla menu and thus help users quickly see their past invoices.
 All 12 features and the 27 fixes are listed in the discussion thread below.
Also make sure you subscribe to Beat's blog to read what new features he has planned for version 4.2!
CBSubs 4.1.1 is available in our Downloads section and simply requires an active subscription to CBSubs.