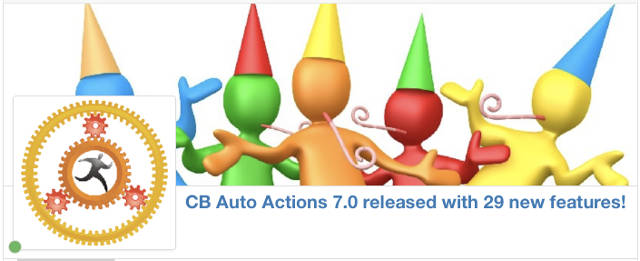 CB Auto Actions 7.0 is here!
CB Auto Actions 7.0 is a major feature rich release of the most powerful making things happen without coding tool available for Joomla.
With 29 new features this swiss army tool lets you configure almost any action imaginable to help you automate your website workflows.
Even with our great CB Auto Actions videos, it is sometimes difficult to explain what exactly this tool is about and do it justice.
In most cases it is the answer to questions like: "I wish I could do ABC with Community Builder and Joomla, but I am not a developer". Well, this is exactly where CB Auto Actions steps up to the task and lets you configure instead of code.
With 42 pick and use or pick and change built-in system actions, you can simple enable some cool things (automatic login after registration and pushing events to your activity stream) we have already thought about for you.
Or you can configure your own actions by selecting one of the 26 action types and just filling in the gaps without any coding knowledge.
CB Auto Actions 7.0 has 29 new features (see discussion thread for change log). Here is a shortlist of some of our favorites:
CB Privacy Actions for CB Gallery items and CB Activity streams
These built-in system actions will let your users select who can see specific items in their CB Gallery or on the CB Activity streams.
You can see these in action on our demo site (just login and add a new activity post to see the new privacy drop down selector)
Note: CB Privacy and CB Activity need to be installed.
CB GroupJive Stream and CB GroupJive Gallery
Just enable these new system actions and get activity streams and galleries in your GroupJive groups !
Output tab for actions
This is somewhat technical to explain. Basically this is very useful for CB Activity and coding actions in order to better format the output they produce.
Kyle elaborates on this in his latest blog.
Variable Loop
Another very powerful technical features that basically lets you loop an action based on specific characteristics of the trigger event.
Once again Kyle explains this functionality in his blog.
Joomla Triggers
CB Auto Actions can now be configured to work off of Joomla events!
30 Joomla triggers are now recognized in CB Auto Actions 7.0!
 We will be discussing these new features on the forums and in new video tutorials to help our community make new things happen with these great new features.