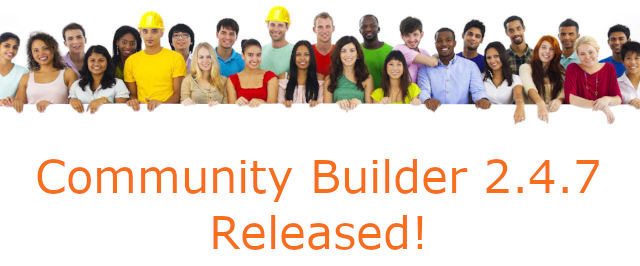 Community Builder 2.4.7 can be freely downloaded by all registered members
We just released Community Builder 2.4.7 with 9 new features and 14 bug fixes!
The main new features (full CB 2.4.7 changelog) include:
Name format options with

First Name Only,

Last Name Only,

First Name and Last Initial,

First Initial and Last Name,

First and Last Initial settings.

Randomly generated usernames for fallback option will generate Joomla required username
Password unmasking feature has been added - this way you no longer need extra verify password field
New profile edit tab vertical layout has been implemented
Updated Bootstrap to version 4.5.2
Support for latest MySQL 8.0.17+
Community Builder 2.4.7 is a recommended upgrade for all CB sites.
Our demo website has already been updated to Community Builder 2.4.7, so you can see it in action along will all our Joomlapolis add-ons.
As always, you should first test on a cloned environment before upgrading your production site.
Looking ahead to Community Builder 2.5!
With the future CB 2.5 release, simultaneous support for Joomla 4.0 and Joomla 3.9 will be achieved using updated CB libraries. This will make future upgrades from Joomla 3 to Joomla 4 easy. In order to achieve this and be able to use modern PHP language techniques and future PHP 8 compatibility, we are issuing now an advance notice of end of PHP 5 support starting with the upcoming CB 2.5 release. Going forward, the new minimum PHP version will be same as that of Joomla 4, namely PHP 7.2.5.