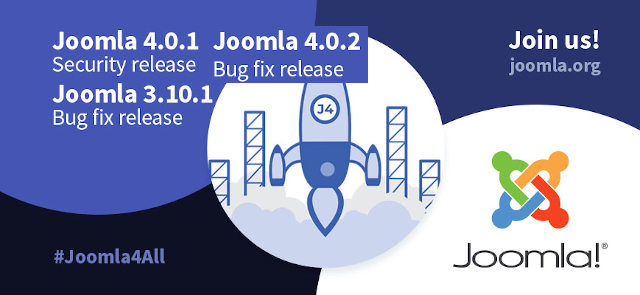 Joomla 4.01/4.02 3.10.1 are here
The Joomla project team has recently released Joomla 4.0.1 (and a quick 4.0.2) and Joomla 3.10.1.

Joomla 4.0.1 is a security release for Joomla 4.0.0 and has been quickly superseded by the Joomla 4.0.2 bug fix release fixing a minor bug in the Joomla updater component of Joomla 4.0.1.
Joomla 4.0.2 is an easy maintenance upgrade for Joomla 4.0.0 and 4.0.1, If you have already updated to 4.0.1, during the normal upgrade to 4.0.2 you will be invited to upgrade first the Joomla Update Component to fix the 4.0.1 updater issue before you can update to 4.0.2. The process is very well guided and only a couple of extra clicks. You can find more details in the Joomla documentation: Update from 4.0.1 to 4.0.2.
Joomla 4.0.1 addresses several bugs, including a "High Severity - Moderate Impact - Insufficient access control for com_media deletion endpoint (affecting only Joomla 4.0.0) bug".
Joomla 3.10.1 is a maintenance upgrade for Joomla 3.9.28 and Joomla 3.10.0.
Finally, please do not upgrade from Joomla 3.x to Joomla 4.0.x before reading our article Joomla 4 - a CMS with a great future!
Community Builder 2.6.2 (latest build) and all Joomlapolis add-ons should install and run just fine on both environments.
You can learn more about these new releases by reading the Joomla 4.0.1/3.10.1 and Joomla 4.0.2 announcements.