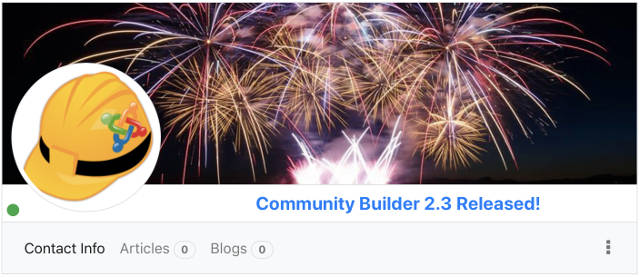 Community Builder can be freely downloaded by all registered members
We just released Community Builder 2.3 with 23 new features and 32 bug fixes.
Community Builder 2.3 is a feature rich release that is a recommended upgrade for all CB sites. As always, you should first test on a cloned environment before upgrading your production site.
Our demo website has already been updated to Community Builder 2.3, so you can see it in action along will all our Joomlapolis add-ons.
Of the 23 new features we would like to showcase the following:
The Private Messaging plugin in CB now has an internal mode switch and no longer needs (but can still integrate with) uddeIM
Updated to Bootstrap 4 (getting ready for Joomla 4)
Age validation for date fields
New Yes/No display for checkbox fields
New Button mode for multicheckbox fields
Many user interface and usability improvements
 A detailed changelog is available in the discussion thread.