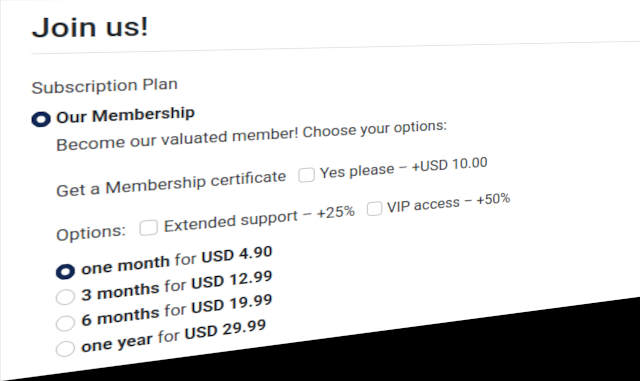 CB Paid Subscriptions (CBSubs) 4.6.2 comes with major new features: Dynamic pricing with its CBSubs Options plugin, a massively improved Stripe payment gateway and a rewritten iDevAffiliate integration. The automated payment process has also been improved for rock solid checkouts.
CB Paid Subscriptions (CBSubs GPL) 4.6.2 is a features and maintenance release and is a recommended upgrade for all sites.
CBSubs 4.6.1 includes new dynamic pricing, an improved payment service provider gateway, 25 other improvements and 33 minor bug fixes. Main new items are:
The CBSubs Options plugin has been massively improved to allow to modify plan prices easily. Support has been added for adjusting the base price of a plan dynamically, with or without options. For example, substitutions (e.g. [cb_quotedprice]) and modifiers (e.g. +10, -15, *3, +[cb_priceadjust]) are now possible. This avoids needing to use promotions to alter the base pricing of plans and also work great with pricing options since the base price is adjusted instead of the totalized price, and individual adjustments are not itemized in the invoice.
The CBSubs Options plugin propose various duration and price possibilities for user subscription plans. It also allows to offer various options to membership subscriptions or to merchandise products. This allows to offer options to users while selecting their plan or product, and then to manage them right from their user profile. Kyle has a detailed blog with many screenshots about the CBSubs Options plugin
Stripe payment gateway has been improved to better reflect the bought items at the Stripe portal, also for automatically recurring subscriptions payments. The stripe gateway has been rewritten to use the latest Stripe API Elements and became several improvements throughout. This makes Stripe easier to use, have more features, and more safety nets for potential payment failures. See Kyle's detailed blog about the Stripe payment gateway overhaul.
CIC Credit Mutuel payment gateway uses the updated payment api
iDevAffiliate integration has been redesigned to use whole basket pricing instead of per-item and to respect recurring payments pricing, adhering to their affiliates commissions structure.
Settings to enable or disable unsubscribe buttons on plan by plan basis.
CBSubs 4.6.2 also fixes 33 minor bugs and improves the compatibility and reliability overall.
CBSubs 4.6.2 is a recommended upgrade for all sites, and is very stable, as all changes were released continuously in our nightly releases. It is also a highly recommended upgrade for sites using the Stripe and/or CIC Credit Mutuel payment processors.
CBSubs 4.6.2 requires latest Community Builder 2.8 release or later.
CBSubs 4.6.2 is fully compatible with Joomla 3.10-4.1, PHP 7.4-8.1 and MySQL 5.6-8.0.
CBSubs 4.6.2 is available in our Downloads section and simply requires an active subscription to CBSubs or a Developer membership.
Kyle's latest blog details the new CBSubs Options plugin.
Full changelog is available, and CBSubs 4.6.2 is also installed on our demo site. Last but not least, many thanks to Kyle for his redevelopment of the CBSubs Options plugin!