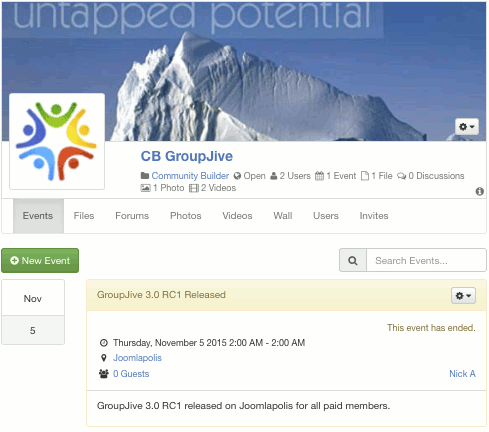 GroupJive 3.0 RC 1 can be downloaded by all paid members.
GroupJive 3.0 RC 1 is fully compatible with latest Community Builder 2.0.12 (required) and can be installed on live websites.
All community feedback (thank you) and comments from our GroupJive 3.0 beta 1 testing round have been addressed and the GroupJive 3.0 RC 1 can be installed over GroupJive 2.7 environments. The built-in migration script will take care of everything and make all needed database conversions.
The recommended process for installation is:
Take backup of your website - always!
Make sure you have Community Builder 2.0.12 or better installed. If not upgrade first amd take another backup.
Download and unzip the GroupJive 3.0 RC1 package
Install all elements (CB plugins, Joomla module, Joomla search plugin)
If you are installing over GroupJive 2.7, test all frontend Joomla menus - everything should work as backwards compatibility is built-in. If something does not work you may have to create new Joomla menu items of type Community Builder -> Plugins -> CB GroupJive.
If this is a clean (first time) install, then after installation you should publish all plugins and create any Joomla menu items needed fo access from frontend.
Test everything
We are also working on new documentation in the form of a GroupJive Primer book that should be ready for public release later this month. Video tutorials are also planned. Language projects have been added on Transifex and we have already pushed new CB 2.0.12 compatible language plugins with GroupJive 3.0 support.
Finally, to integrate with the CB Activity add-on you will need that latest CB Auto Actions 6.3.2 release and the latest CB Activity nightly build. Both can be downloaded by Professional/Developer members from the CB 2.0 add-ons compatibility chart.