Build powerful subscription websites with Community Builder Subscriptions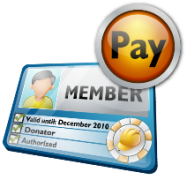 After over 2 full years of research, development and testing the CB Team is proud to announce the public release of Community Builder Subscriptions System - CBSubsTM.
At Joomlapolis, we dreamed of an "automatic money making machine" to handle our documentation subscriptions, donations, and other product sales and delivery. We wanted it easy to use, extremely flexible and fully automated.
We needed a social membership management and payment solution to handle our documentation subscriptions, and also donations and other products. We wanted it easy to use, fairly priced, fully automated. Well, a community memberships management solution. And of course all of that in a single, very flexible, powerful package, fully integrated with CB, Joomla and many other extensions, without any hacks. But it didn't exist.
Something that sells subscriptions for you, collects the money for you, delivers memberships, E-documents to your site members, gives access to premium areas of your site, securely and automated!
But it didn't exist.
So we decided to build our own from the ground up, using modern web-development methodology. We also decided to not only build it for ourselves, but to make it very solid so that it can be used by many busy sites for huge online communities, or real communities. Well, up to today, such a beast simply didn't exist...
CBSubsTM is an extremely powerful and flexible system that will turn any CB 1.2 powered environment into a money making engine. The possibilities are endless and the application framework built into the system will allow even more features and capabilities in the near future.
We are very excited with this first release as we feel it is breaking all current barriers prohibiting affordable e-commerce business scenarios built over Joomla and Mambo websites. Your CB 1.2 powered website with the addition of CBSubsTM will be able to offer subscription based services, merchandise items and donation collections under the same environment.
Buy a CBSubs license and add it to your CB 1.2 site.
Over 15 integration plugins are currently available, everything from affiliates integration to google analytics tracking, 5 payment gateways (PayPal and Authorize.net auto-recurring payments included), built-in content and components protection (ACL), recurring payment handling, offline payments, email automation and much more exciting features described in detail in the 200+ pages manual.
Some of the scenarios now possible using CBSubs:
These are just simple examples, and can be combined, allowing for easy upsells, sometimes acting as "turnover-doublers"
Template Clubs

Most of us have seen the template club websites that have been offering access to their template repositories as a paid subscription based service. We have seen packages like 'Silver Plan' gives unlimited access to our download template repository for X1 USD for Y1 months. Or 'Gold Plan' gives access to template and module repository for X2 USD for Y2 months, etc. You can now do something similar by using CBSubsTM and your favorite download component (DOCman or Remository).



Merchandise Sales

The CB Team has been using CBSubsTM to sell its MyCommunity Template package. It is offered as a Merchandise plan that can be purchased again and again by the same member. This is because the specific item is purchased on a per website license basis.



Donations

Along with subscription plans and merchandise plans, CBSubsTM also supports Donation plans. Users can donate as often as desired and at fixed amounts or open amounts.
The CBSubsTM release 1.0 package is consists of:
The main CBSubsTM CB plugin
the CBSubsTM module to display status, upgrades available and incentive messages
the CBSubsTM CMS content, components, menus, modules and URLs access protection plugin (mambot)
15 integration plugins covering a vast range from affiliates integration to google analytics
detailed documentation (over 200 pages!)
a floating license number for the number of sites in license, plus 1 development or test site. License is not bound to a sitename.
Take a look at the overview and the features, check out the integration plugins and read the testimonials. Look at our flexible pricing model, license and purchase process and decide to take the next step and take your CB 1.2 stable site to the next level!
Buy a CBSubs license and add it to your CB 1.2 site.