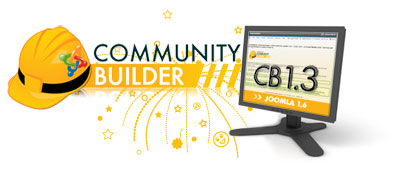 The CB Team is proud to announce the immediate availability of CB 1.3.

Version 1.3 of Joomla's most popular extension has addressed over 30 artifacts and API improvements (see changelog) and is now also installable on Joomla 1.6 beta 14. This reaffirms our commitment to follow the Joomla roadmap as we push forward towards our CB 2.0 roadmap – codename – Orama (from the Greek word meaning vision).
We are excited that a few of the important CB 2.0 improvements could make it already into CB 1.3. New features in CB 1.3 include 17 new features, most important being:
HTML output choice with a single new parameter in CB configuration for tableless profile and registration output.
Kunena 1.6.x support
mproved CSS and HTML markup allowing much better styling, such as Sliding doors rounded corners for all CB buttons
Faster page loadings thanks to optimized javascript loading, new javascript compilator and new versions of libraries
Library and API improvements backported from CB 2.0
46 minor bugs closed
CB 1.3 also fixes a low level backend vulnerability and is a recommended security upgrade for all existing CB powered websites.

All registered members can download CB 1.3 from our download area (must be logged in to download).

Our CB Documentation subscribers can download an updated CB 1.3 detailed documentation package from their Doc-Subs tab in their profile.
{mos_sb_discuss:7}