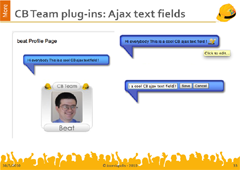 The CB Ajax Text Field plugin version 1.2 has just been released.
It has been upgraded to better support CB 1.4 operations on Joomla 1.6.x environments.
The CB Ajax Text Field plugin, when installed and published, will add another field type to your CB Fields Management area. This will allow you to create new (as many as you want) CB Ajax Text fields that can be edited directly in profile view mode (instead of having to go through the update profile process).
Version 1.2 is available for all Professional and Advanced members and can also be purchased as a one-time product purchase from our CB Add-ons page.