I see that several people have similar issue I was about to post about. I do not see a solid solution, so would appreciate someone taking a look at this again.
I am doing an upgrade/migration from J 1.5.6 / CBSubs 1.2.2 to J 3.3.3 and to CB 1.9.1/ CBSubs 3 GPL.
This is a site for an association, and we have calendar year expirations (set to 0101 with 7-day grace period before actual expiry). Over the years (we have had CBSubs in place since 2009) we have had members who did not renew.
In reviewing the database before trying to export subscriptions I found some anomalies and discovered the following:
Members who did not renew over a year in the past will have a reactivate message that prompts them to renew for a year that is long past. The year is "frozen in time" at the next Calendar Year they should have renewed for.
Example: A Member whose subscription expired with 2009 would still today (in 2014) see a prompt to "Reactivate 2010 for $125."
Another Example: Member whose subscription expired with 2011 would still today (in 2014) see a prompt to "Reactivate 2012 for $125."
Questions:
Is this still an issue for GPL 3.0? As I set the plans up anew I want to avoid this problem.
What is the workaround to edit the string so that it displays "Renew for next Calendar Year" (to be safe, I think I would go with that)
Can CBSSubs purge these records that have "expired" from the subscriptions database when someone does not renew after the Grace Period? Should they be -- perhaps after a year? Or do I need to do that manually?
As I understand it, when I import the aubscribers I would lose these expired records anyway -- correct?
The date does appear correctly current WITHIN the calendar year (before expiry) -- so my 2014 members do currently see "Reactivate for 2015 at $100." The year does not update correctly however, so that anyone who not renewing by 12/31/14 right now still shows "Reactivate for 2014." It is just the older subscribers that are frozen in the year they did not renew.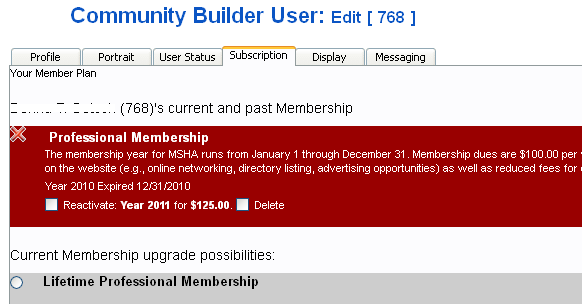 thanks, MMc