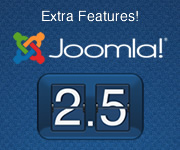 Joomla 2.5 has just been released!
The Community Builder team congratulates the Joomla community for the release of it's latest Long Term Support (LTS) Joomla 2.5.0 package!
New releases are always considered as progress and moving forward. Everyone likes a shining new product and most of our 439,064 members will rush to take this baby for a test-drive.
Looking past the version jump gap from previous Joomla 1.7.3 release (actually Joomla 1.7.4 was just released also) and the hype, the following three questions should most likely be on most people's minds:
What's new in Joomla 2.5 ?
What will happen to previous versions of Joomla ?
How should Community Builder users react ?
Let's tackle these questions and give as much information as possible. This way everyone can make their own educated decisions regarding this release and the way forward for their unique situation.