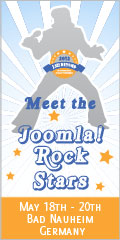 Beat and Nick will be attending the JandBeyond event this week to get their yearly dose of Joomla!, while Kyle will be holding the fort at Joomlapolis - thanks Kyle!.
If you are attending, make sure you say hello and have a cup of coffee or a beer with them. You can also attend their presentations on Saturday and Sunday and listen to the CB Team lighning talk on Friday.
Courtecy of the Joomlapolis Video Sponsoring all presentation will be recorded. This way the Joomla magic will be able to reach millions of Joomla fans through-out the world!
This year, our Community Builder extension is also on the 2012 J!OSCAR shortlist! This by itself is a great acknowledgement for our community here at Joomlapolis - thank you !