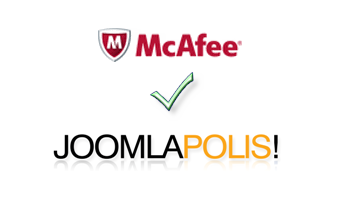 Joomlapolis and McAfee collaboration brings security services offerings to Joomlapolitans!
Joomlapolis is now offering the McAfee SECURE™ trustmark and the McAfee® PCI Certification service for its membership.
The two organizations have been working on this arrangement in order to bring highly respected security related offerings at fantastic way below retail pricing to the over 400,000 Joomlapolis members.
Nicole Chovan from the McAfee Web Security Group stated:
"We are excited to address the 400,000 members of Joomlapolis and offer them our McAfee SECURE trustmark and McAfee PCI Certification services and look forward to working closely with individual members to make their websites as secure as possible through our services."
Beat from Joomlapolis responded:
"As Joomlapolis website administrators, we have been using the McAfee SECURE trustmark (see our homepage dynamic McAfee SECURE trustmark) and we have been extremely impressed with the daily scanning that tests our site for more than 12,000 vulnerabilities (including Joomla related scanning) helping us keep Joomlapolis secure and safe. All Joomla websites can benefit from these services!"
Learn more about McAfee SECURE Trustmark and PCI-DSS services through our dedicated pages in the CB Solutions menu above.
{mos_sb_discuss:6}