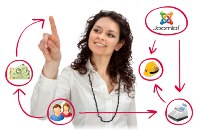 CBSubs 1.3 is almost ready for release.
It is already powering our Joomlapolis website, so start planning your upgrade now!
The CBSubs Paid Subscriptions Membership Management solution is the most complete product available for Joomla subscription based websites. It is already powering thousands of websites and every new release is adding even more features to the huge existing flexibility already included.
We have already given a sneak preview of the new CBSubs Mailer feature and as we are approaching final release we have compiled the following list of new features:
Mailer plugin with automated, scheduled, personalized email and private messages (needs PMS extention: e.g., uddeIM)
Multi-currency support during checkout with pricing markup based on currency selection.
Allow formatting of primary / secondary currency displays
New alternate Ajax way to select payment method using a radio selector instead of buttons, allowing to add descriptive text for each payment method
Advanced Statistics Reporting (now has 9 report icons)
Eight (8) new payment gateways: WorldPay, AlertPay, eWAY, CCBill, QucikPay, Moneris eSELECTplus, Telemoney EasyPay and CIC Credit Mutuel
Basket filtering based on taxed status
Offline payment slip now optional and customizable
View (and print) invoice buttons and View (and print) all completed or all pending invoices added to Basket icon area
Pay invoice button added to Basket icon area
VirtueMart 2.0 integration
GroupJive 2.5+ integration
Rounded template improvements (psd layer, new red icon, etc.)
Basket timeouts (admin selectable)
Post Affiliate Pro new API support
CBSubs Language plugin iso-code based
Updated documentation
In addition to above new features there are many bug fixes included in CBSubs 1.3, as well as additional support for just released Joomla 2.5.
All existing CBSubs customers should check their license maintenance period and make sure it is still valid. If your license maintenance has expired, you can just add additional years to bridge the gap and bring your maintenance up to date. This way your existing license will work just fine with CBSubs 1.3.
If you are not a CBSubs user yet, then you should learn more about CBSubs, see the short video presentation and take the CBSubs challenge and purchase your license now risk free under our 30-days no questions asked first-purchase refund policy.
{mos_sb_discuss:6}